More About Us
Since 1986 ...
MediaHouse has provided video production services to local customers in Cambridge, Kitchener, Waterloo, Guelph and Brantford, Ontario and dealers across the country.
We give your family memories, including home movie film, photos, slides and videos, special care. We know they are priceless and treat them as our own.
We also transfer Records, Audio Cassettes and Reel to Reel Audio Tape to CD, wav or mp3.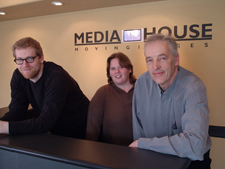 We are here to help you. Don't hesitate to call and ask questions about your project. Bill, Jodi or Struan will spend the time with you and assist you any way they can.
Remember - there are no silly questions!
Call us at 519-653-2056.
We advertise regularly in local newspapers, magazines, online social websites and the YellowPages. Keep your eyes peeled for special offers in the paper or in your mailbox now and then.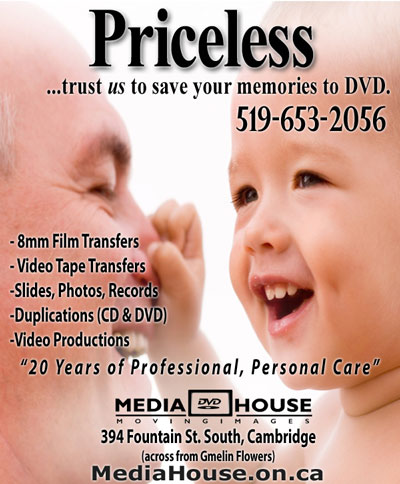 Here is this year's Yellow Page ad. Canada 411 and Yellow.ca has more information.
Advertising is fine, but happy customers is our best promotion! We strive for customer satisfaction, and promise to please you, too! Please tell your friends and family about us when you're happy, but PLEASE tell us if you are not - and we will make it right!
We also specialize in consumer and corporate videography, editing, documentary, industrial, promotional, orientation, memorial, fund raising, web productions ...we have created just about every kind of production you can think of!